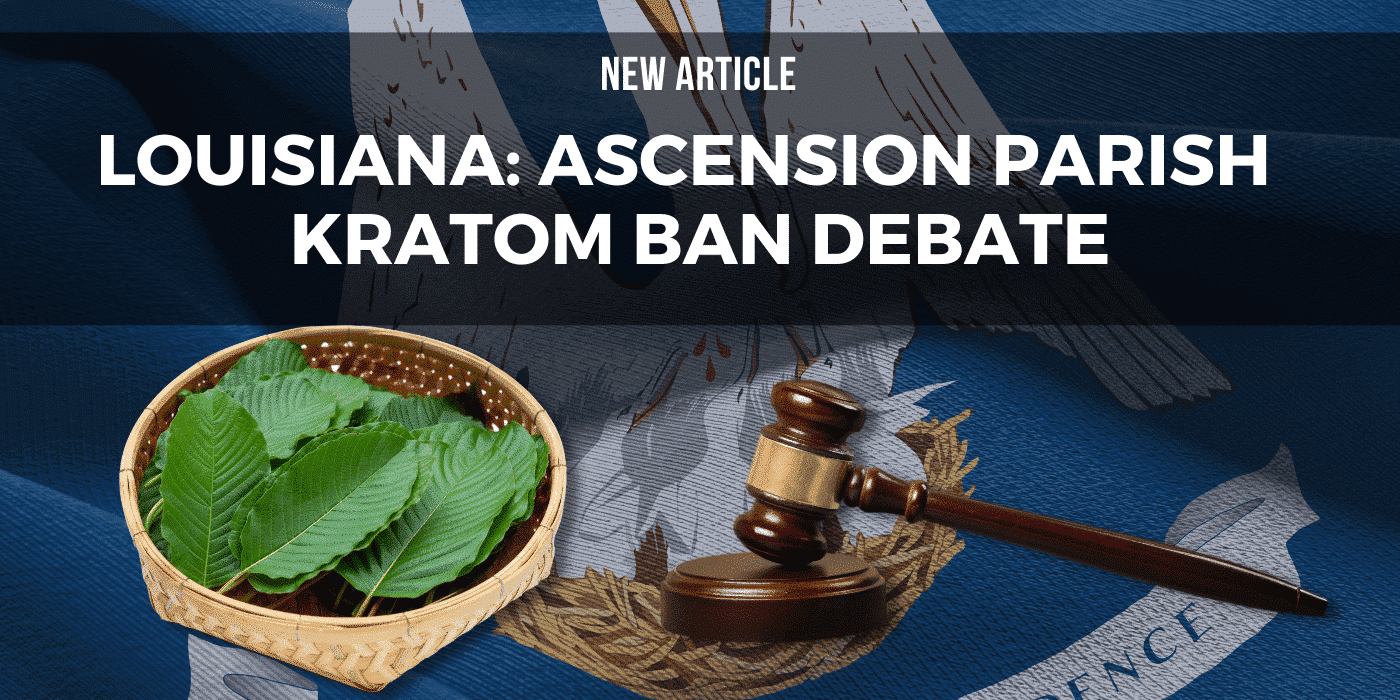 In Louisiana's Ascension Parish, kratom, a natural herb from Indonesia, is a source of heated debate. During a Council meeting three weeks ago, the local law enforcement, as well as some community members, shared why they felt that kratom should be banned in their parish. 
During the discussion on banning kratom, the lack of science-based evidence was apparent, and the Sheriff's department even made an incorrect claim about kratom, saying, "It's synthetic. It's basically synthetic heroin."
If kratom were to be made illegal in Ascension Parish, it could set a precedent for other parishes in Lousiana to ban kratom. Thus, the need to educate Ascension Parish on kratom is much needed so that no legal decisions are made based on misinformation. This local debate also adds mounting pressure to encourage Louisiana's state government to pass a bill regulating kratom. 
Update: The August 4th Meeting 
More recently, the Ascension Parish Council held a meeting on August 4, during which they introduced an ordinance to regulate the sale and use of kratom. This discussion featured more from both sides of the argument, including testimonies from people defending kratom and calling for Louisiana to pass the Kratom Consumer Protection Act (KCPA) instead of banning it in Ascension Parish.
While some community members during this discussion were able to try to fight against misinformation and bring more scientific evidence to the table, others shared stories that reinforced their view that kratom should be banned in their parish. Notably, some of the worries that were brought up against kratom would be easily addressed by regulating kratom.
For example, one woman expressing her worries said, "My 12-year-old son can walk into a gas station and get kratom." If kratom were regulated in Louisiana, there would be an age restriction limiting the sales of kratom to only those over the age of 18 (or, in some versions of the Kratom Consumer Protection Act, the legal limit is 21 years of age).
Push to Regulate Kratom In Louisiana, Not Ban It Locally
Although there are only currently six states in which kratom is illegal (Alabama, Arkansas, Indiana, Rhode Island, Vermont, and Wisconsin), there are also numerous cities, districts, or locales in which kratom is illegal, including San Diego and Oceanside (CA), Sarasota County (FL), Monument and Parker (CO), Jerseyville and Alton (IL), Franklin City (NH), and 33 counties in Mississippi.
Whether a city, county, parish or other local governing body decides to ban kratom in its local area of control, it can affect attitudes towards kratom in the entire state. Furthermore, legislators often ban kratom without knowing any science or data about the botanical or how it impacts the American public at large. It is for that reason that several of the states that have banned kratom have falsely listed it as a "synthetic" controlled substance, in spite of kratom being a completely natural plant.
Regulating kratom does not guarantee that it prevents state legislators from ever attempting to make it a controlled substance, but it does help protect the consumers who buy kratom from adulterated and contaminated products. By regulating kratom according to the guidelines set by the American Kratom Association's (AKA) KCPA, vendors are required to follow set guidelines for manufacturing, labeling, and lab testing the kratom products they sell.
This is important because if someone gets sick from contaminated or adulterated kratom, it can instill fear in the public and lawmakers, who then become wary of even pure, uncontaminated kratom. Similarly, if gas stations are allowed to sell unsafe kratom to 12-year-olds, it further adds to the demonization of kratom in communities and the media. 
How to Help Keep Kratom Legal in Louisiana, In Every Parish
If you want to help share your story and push for kratom to remain legal in Ascension Parish, you can contact the Ascension Parish Council members via the link to a form created by the AKA.
You can also contact specific Ascension Parish Council committee members here: 
| | | |
| --- | --- | --- |
| Name | Phone | Email |
| Clint Cointment | (225) 450-1452 | clint.cointment@apgov.us |
| Alvin "Coach" Thomas Jr. | (225) 450-5182 | alvin.thomas@apgov.us |
| Joel Robert | (225) 450-4909 | joel.robert@apgov.us |
| Travis Turner | (225) 975-6895 | travis.turner@apgov.us |
| Corey Orgeron | (225) 450-5008 | corey.orgeron@apgov.us |
| Dempsey Lambert | (225) 715-0680 | dempsey.lambert@apgov.us |
| Chase Melancon | (225) 247-4527 | chase.melancon@apgov.us |
| Aaron Lawler | (225) 229-6817 | aaron.lawler@apgov.us |
| Teri Casso | (225) 806-4427 | teri.casso@apgov.us |
| Dal Waguespack | (225) 390-0144 | dal.waguespack@apgov.us |
| John Cagnolatti | (225) 333-2498 | john.cagnolatti@apgov.us |
| Michael Mason | (225) 964-6998 | michael.mason@apgov.us |
|   |   |   |
To contact Louisiana State Legislators outside of the county, use the following resources:
You can share your kratom story and urge them to pass the Kratom Consumer Protection Act in their state to protect consumers.
Stay Tuned for Updates
The decision in Ascension County has not yet been made, and the ordinances introduced in the August 4 meeting were not discussed thoroughly or voted on by Council members during the meeting. The kratom-related ordinances will reappear on the agenda for the next meeting, which is set for August 18.
If you want to stay tuned for updates relating to kratom laws in Louisiana, or if you ever find yourself wondering, "is there a "kratom ban near me?" you can subscribe to the American Kratom Association's email list to find out how the latest legal news and kratom updates. 
You can also subscribe to Mitragaia's weekly newsletter, as we strive to provide kratom news updates and other information regularly to our followers.