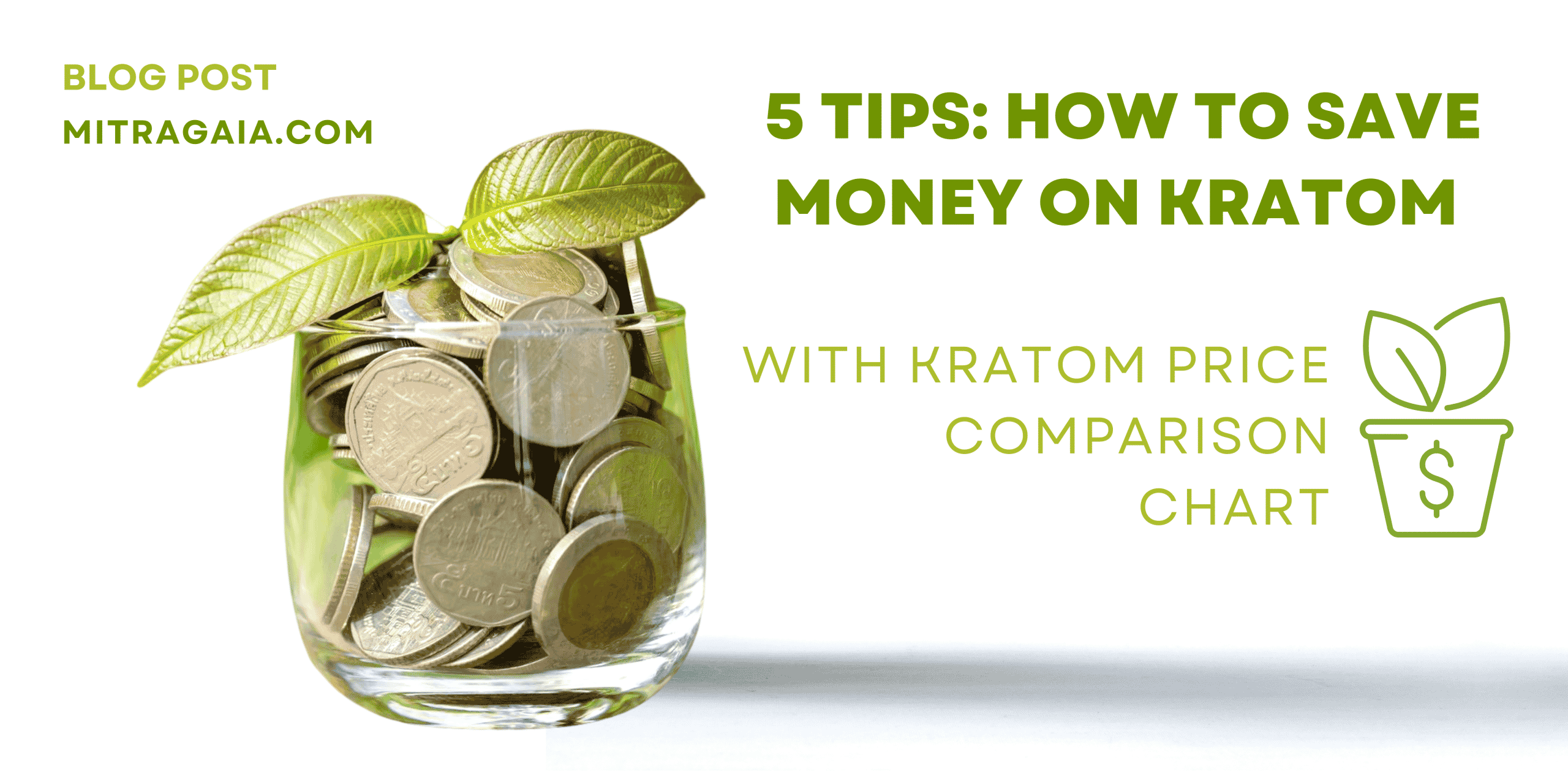 If you were to ask one hundred kratom buyers, "how do you choose where to buy kratom?" chances are, a good majority would mention kratom prices and quality as being the most important factors. Ultimately, what many people want to know is where to buy the best kratom for the price, and how to save money on kratom.
Many long-term kratom consumers have noticed that kratom prices have been on the rise due to inflation. In addition, kratom prices fluctuate regularly due to things like changing shipment costs, increased business expenses for Indonesian suppliers, growing demand and reduced inventory, and seasonal effects on the harvest.
No matter the cause, the effect can be seen across the customer base as more and more people are scouring the web for the best deals on kratom, kratom coupon codes with the best discounts, special offers, free kratom samples, and vendors that sell cheap kratom.
Of course, most buyers don't want to sacrifice kratom quality just for an affordable price tag. So, before jumping for the cheapest kratom online, check out these tips for saving money on kratom!
1. Look for Kratom Coupons Codes/Discount Codes
Of course, one of the most accessible ways to find the best kratom deals is to search for coupons for kratom powder, kratom capsules, etc. Searching "kratom coupon codes" with the month or year is a good way to find some coupon codes available for different kratom vendors. You can also search for discounts from a particular vendor, such as by typing "Mitragaia coupon codes."
Of course, not all kratom coupon codes will be recent or still active. Another option that saves time is adding discount code browser extensions to try out different coupon codes at checkout. 
2. Look for Loyalty Programs to Get Rewards Points and Free Shipping
Some kratom vendors offer rewards programs that allow you to earn points as you shop, which can add up to exclusive benefits, such as in-store discounts and free shipping options. One of the most notable kratom companies for their rewards program happens to be Mitragaia, which offers an increasing number of benefits as you work your way up the rewards member tiers.
Joining our rewards program is free, and just by signing up, you'll get a special discount! To learn more, visit our rewards page.
3. Compare Kratom Prices at Different Vendors
The highly competitive kratom market means that even with inflation, you will still find some vendors offering lower-than-average kratom prices. To get the best price comparison for different kratom vendors, you can search for a vendor's name, go to their website, analyze their inventory, and take notes on their prices at different quantities. 
For example, you can label one section in your notes, "Mitragaia," and write down the cost for 1 kilo of kratom, 250g of kratom, 250 kratom capsules, 200g kratom capsules, 1 kg kratom capsules, etc. Then, when searching for the prices of another vendor, write down their costs for the same products in each quantity. You can even make a chart for this to give you a visual of different vendors' kratom prices for easy reference. 
Kratom Price / Vendor Comparison Chart
| | | |
| --- | --- | --- |
| Kratom Vendor | 250g Kratom Powder  | 1 Kilo Kratom Powder |
| Mitragaia | $30.00 | $100.00 |
| Golden Monk | $39.99 | $89.99 |
| Super Speciosa | $39.99 | $139.99 |
| Krabot | $39.99 | $149.99 |
| Kats Botanicals | $39.99 | $139.98 |
| Happy Hippo Herbals | $68.97 (224g) | ​​$199.99 |
| Oasis Kratom | $35.00 | $79.00 |
| Laughing Lion Herbs | $38.00 | $125.00 |
| K Chill | $49.99 | n/a |
| Kona Kratom | $54.99 | $159.99 |
| Kratom Spot | $64.99 (224g) | n/a |
| Star Kratom | $34.99 | $99.99 |
| Viable Solutions | $75.00 | n/a |
When comparing kratom prices from different vendors, it's important to take note of the price for different quantities, as many vendors offer better deals for some quantities but not others. For example, some kratom vendors offer exceptional deals on kratom kilos but are not the best place to buy 250g kratom powder bags for the price. To discover new places to compare kratom costs, you can use our kratom vendor list/price comparison chart above or look up kratom vendor price lists online.
As you take notes, keep in mind which products and quantities you would ideally like to buy so that you can focus on only the prices that matter to you. For example, if you want to buy kratom in bulk, you may wish to compare multiple bulk kratom vendors' prices or wholesale kratom vendors rather than tons of ordinary retail kratom businesses. 
If you don't go through kratom that quickly, on the other hand, you may want to keep in mind that bulk kratom vendors might not offer the best quality kratom for the price in smaller quantities. For trying new kratom strains and keeping kratom fresh, 250g bags are a good way to get a good deal on the price without committing to kratom that you may not love.
4. Sign up for Kratom Newsletters for Kratom Sales Notifications
Although our kratom vendor list and kratom price comparison chart can give you a good idea of a vendor's main non-sales prices, to find the best kratom vendor's prices, it's equally important to acknowledge how many sales they have, the frequency of their kratom sales, and the discount.
For example, some vendors, such as Mitragaia and Kats Botanicals, offer at least one major blowout sale monthly. By signing up for a vendor's email newsletter, you can stay on top of the latest discounts and find out the best kratom sales and flash deals right away. 
Here's a good example of how a vendor who offers lots of sales can impact their overall prices: even though Mitragaia's kratom powder kilo prices are not the cheapest kratom kilos on the list, we offer kilo blowout sales that bring our kratom kilo prices down to $79.95, as well as other unique offers such as a buy 2, get one free sale and storewide offers such as 20% off everything sales. 
When taking into consideration the frequency of sales, potential for rewards points, and coupon codes, you can easily find a quality vendor with reliable prices to stick with rather than having to chase deals. 
5. Learn How to Store Kratom Properly to Make it Last Longer
Kratom's shelf life is 2 years, but that's only if you store it properly. If you buy multiple strains of kratom, kratom kilo bags, or bulk kratom, it's especially important to keep your kratom in a temperature-controlled environment in an airtight bag and out of the sunlight.
For more information on how to store kratom for it to last the longest, check out our article, "What Are the Best Kratom Storage Methods?" Knowing how to store kratom correctly will help you make the most out of its shelf life. However, keep in mind that the kratom may be several months old when you get it or even older if you buy from a vendor that doesn't maintain a new inventory supply.
Final Thoughts: Keep an Eye Out for Sales, Earn Rewards, and Enjoy Your Kratom! 
Hopefully, you've learned a few handy tips for finding the best kratom prices, saving money, and looking out for deals. At the very least, we hope that our kratom price comparison chart for different vendors has given you a better idea of what a "good price" looks like compared to the average prices for kratom in 250g and kilo-sized quantities.
Lastly, don't forget that there's more to a good kratom vendor than price. One of the things you may want to look out for is a kratom vendor who gives back, whether they donate to charities across the country or they financially support efforts to keep kratom legal, such as by donating to the American Kratom Association. 
At Mitragaia, we're proud to have helped a growing number of charities in our monthly charity drives, during which customers get a storewide discount for using a coupon code and having 100% of their proceeds donated to charity. For more information on some of the charities that we've donated to and raised funds for, check out our Charitable Giving page.